Reaching high: Marlon Lipke at one of his homespots in Portugal.

More and more surfers are heading to the coastlines of the world, in hope to find the most beautiful, unridden waves. Either they heard about certain destinations from like minded people before or soaked up different articles or infos of the omniscient storm rider guide. Now there is a way that will make the search even more easy, due to SURFGUIDE.COM – an engine that finds you the perfect destinations regarding your options. GET WET SOON talked to Marlon Lipke, ProSurfer and one of the guys behind this awesome project.
Hi Marlon, you and your team just launched SURFGUIDE.COM.
How did it came to that idea?
Marlon Lipke: Growing up at my parent's surf camp, one of the first surf camps in Portugal, and becoming a professional surfer I have experienced almost all sides of the surfing lifestyle in countless places on this planet. Surfing will grow no matter what, as it is a unique experience. But I have seen the negative side of the growth e.g. in the summertime in Portugal: Due to wrong information misguided visiting surfers have wrong expectations which leads to lots of frustrations – no matter what skill level they have. This hurts the sport in the long run. With surfguide.com we want to be part of this growth in a positive way, give it structure, make sure the surfers get what they are searching for. I hope and am convinced that surfguide.com will create a great surf community that gives transparency to surf travellers to give them the trip of a lifetime. Which in the end will improve the overall experience for all surfers.

There are already other search-engines for finding the right destination.
SURFGUIDE looks more comprehensive with lots of options.
Can you tell us about the developing process?
Marlon Lipke: Yes, there are many other websites regarding surf traveling. But we wanted to create something new and unique. At surfguide.com you can find the destination fitting your surf level at any given month in the year.
It's sort of the classic story of an idea that started in the back of the garage exchanging ideas, first it was just for fun or imagining what could make the Surf traveling easier. The person that actually put real shape to it was my friend Roman, a surf shop owner from Switzerland (surfari.ch). He had lots of requests from his clients regarding the best fitting surf destination for them at a given time of the year: unique travel experiences with surf conditions that they would enjoy. So he already did share his knowledge on a daily basis. With surfguide.com he brought this service to a whole new level. He integrated knowledge from surf pros, surf travellers and average joe surfers, combined it with available data and shared it with the whole community to comment on. It took more than 2 years to bring surfguide.com to live and we won't stop to improve it. But now was the right moment to launch it and involve the community.
---
"It's sort of the classic story of an idea
that started in the back of the garage
exchanging ideas, first it was just for fun." 
---
How many people have been involved in the making?
Marlon Lipke: The core team consists of five guys that complete each other perfectly, are bound by the passion of surf traveling and work pro bono to make surfguide.com to the best platform for surfer: So the surf shop owner Roman is the main initiator and give it a clear direction. Carmelo Napoli is responsible for the IT project management and coordinates the developers. He coincidently is the son of the pizza place owener at the same corner of Romans surf shop. They actually met in the pizza place years ago. Michael Mare is the guy covering all the external costs. He used to have a small office at the same street as Romas surf shop. Michael visited Roman due the better coffee several times a day and got friends over the years. Roland Thomann is a PR and advertising specialist, who gave up his high paid job to start a foundation for sustainable tourism in Indonesia. Roman got to know him through surfing and discussing a sustainable approach to surf traveling.
But there are many other people contributing to surfguide.com already and without this support it would have never been possible to get where we are today.

How reliable is the engine?
Marlon Lipke: Very reliable, many of the camps and destinations presented I know myself and I can confirm the conditions at a given time. The amazing thing is that the longer the engine is online the more reliable and wiser it will get. Especially when the community will contribute their knowledge.

Do you use surfguide.com also for yourself ?
Or let's say: how did you look up your fitting destination ´till now? 
Marlon Lipke: Haha, well 'till now I have been my own surfguide. Now my knowledge is part of the web engine which anyone can use to get inspired for their next surf trip. Just the other day I was browsing though a couple of camps: some of them were mouth watering. I am sure to book my own holiday via surfguide.com soon!

There are also a lot of surf camps listed.
How can they get listed at Surfguide.com?
Marlon Lipke: Right now anyone can register their camp for free and the second year will be a yearly charge of 300usd. Important is that our recommendation is regarding a surf destination, not regarding a specific camp. Users can filter camps regarding services they wish to have. We do not rate the quality of the surf camps: This is up to the user to do. Share your experiences, surfers!

Is surfguide.com sponsored somehow? Or can everybody use it for free?
Marlon Lipke: Its free for the user to find, search, inquire for prices and rate their surf holidays.

Did you already decide where your next trip will take you?
Marlon Lipke: Yes, I discovered this camp while researching for surfguide.com: It's a small Island in Indo I have not been to yet. As camps do administrate their own profile one can discover new spots and photos of unknown waves. I hope that any user will have this sensation of surprise when using surfguide.com.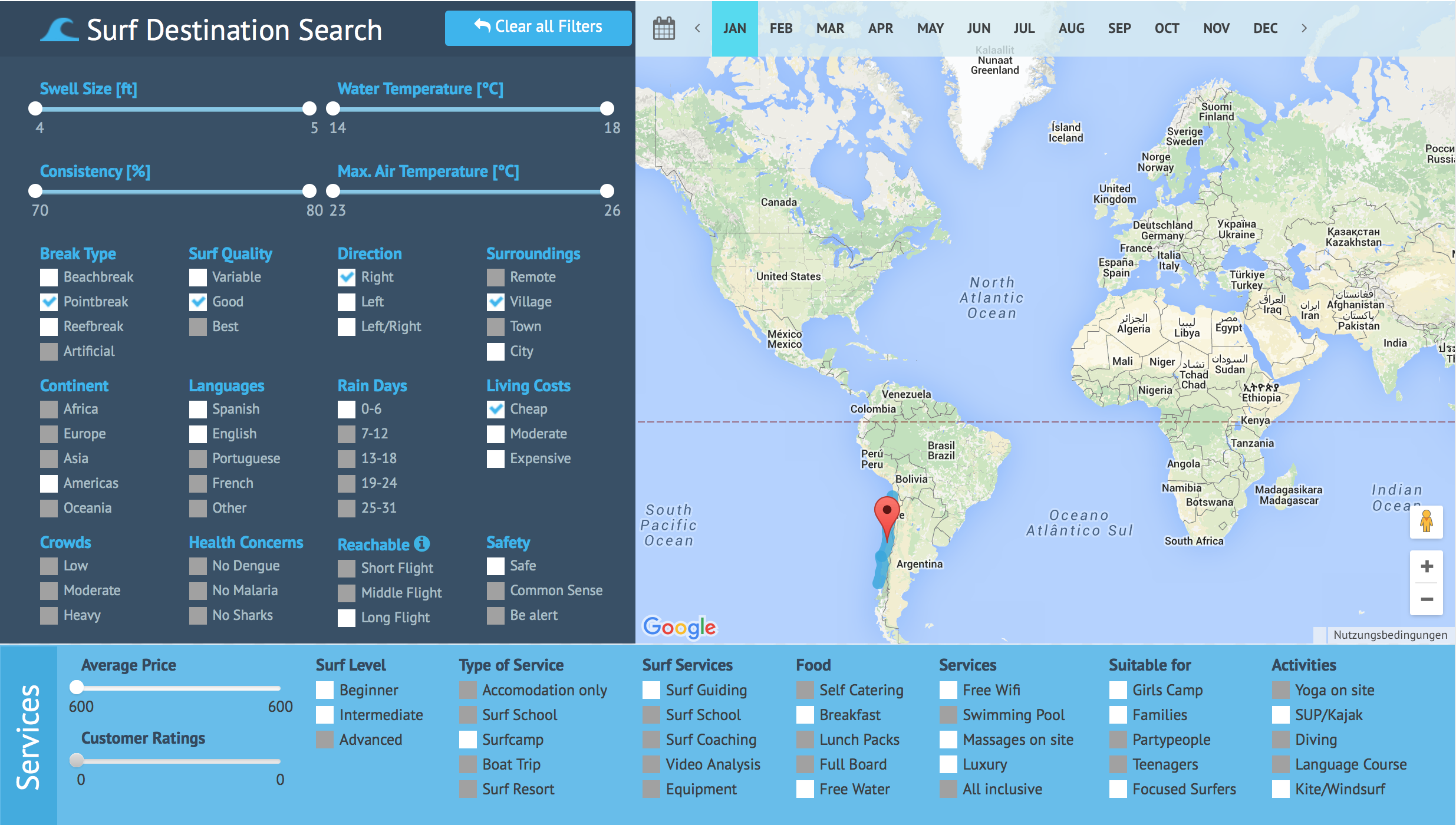 Click all the needs for your satisfied surf holiday – surfguide.com will do the rest.