There are just a few surf movies out there, that are special, that are more than just surf movies. One that really stands out at the moment is "GIVEN" – a truly inspiring piece made by Director Jess Binchi who captures the journey of Family Goodwin on their travels across this planet. Rather the journey to the past of former pro surfer Aamion Goodwin, who's father took him on the trip when he was a kid. So this time we all have the chance to experience this whole celebration of life through the eyes of his 3 year old son, named GIVEN. 
I had the opportunity to have an inspiring talk with Aamion Goodwin about surfing and how to live a happier life. 
Hi Aamion, thanks so much for your time.
First I need to say, that this movie is awesome, really!
Aamion Goodwin: Oh thank you. I am very happy to hear hat.
There is this phrase that embraces the whole movie "Whoever catches the big fish, carries the spirit of the ocean inside him."
How would you describe "The spirit of the ocean"?
Aamion Goodwin: It´s a sense of freedom. It´s also responsibility to the ocean, to take care of the ocean and to be one with the ocean – to recognize that it´s all connected and we´re all connected through the ocean. It´s pretty amazing the way that things can move through water.

Frequencies can move through water and travel across the planet – just like a whale can communicate with another whale from the Pacific Ocean to Atlantic Ocean.
Kind of that theory – that we are all connected through the spirit of the ocean.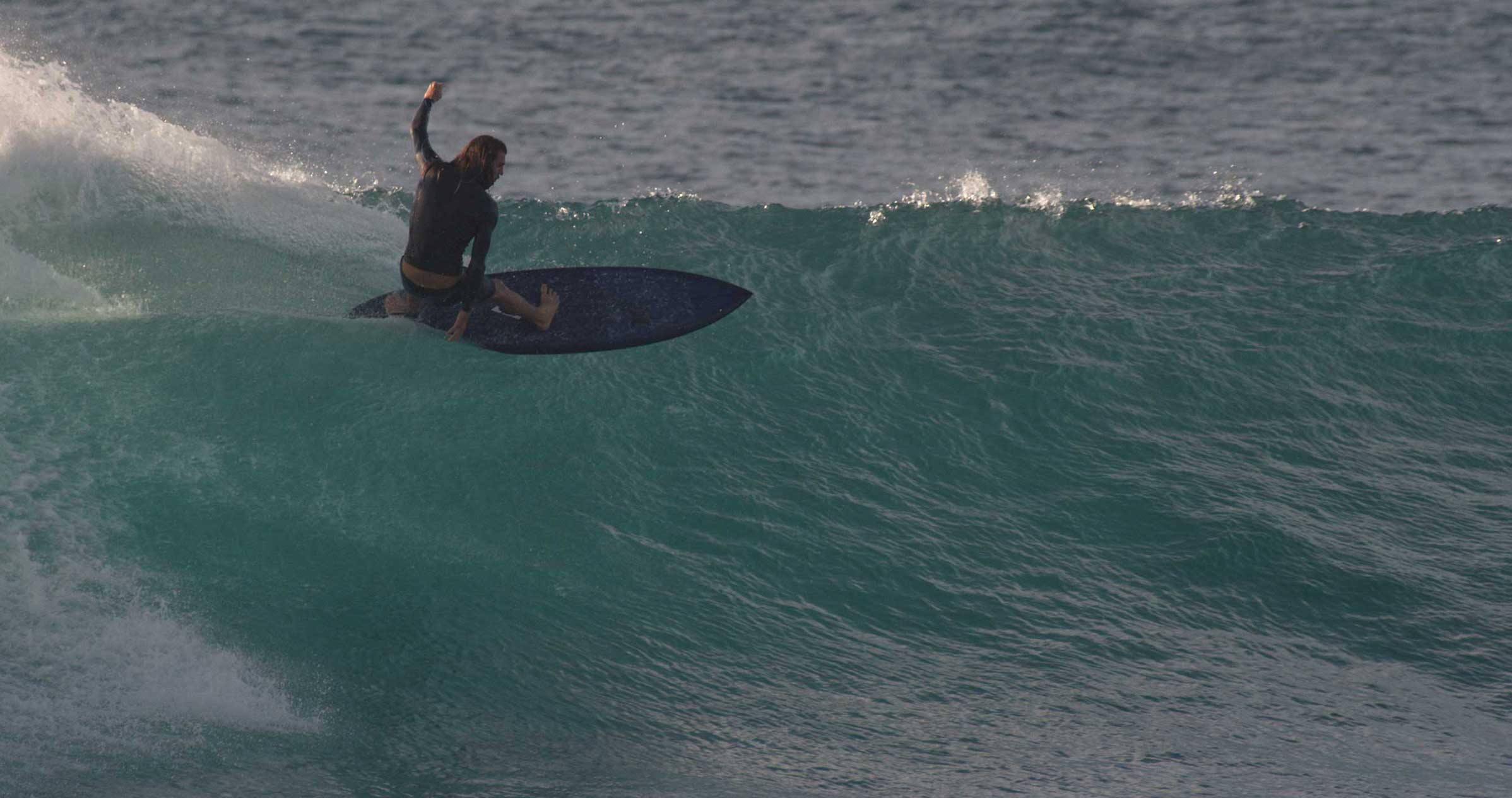 To me the whole movie has this kind of spirit. You have seen many different countries and met many people from different cultures. This movie holds all these pieces together. 
Would you say, there is one thing that all cultures have in common?
Aamion Goodwin: Yes, all the cultures – they are always happy. They have a simple way of living with joy and happiness and I think Love is something that you see everywhere. Something we all carry inside.
Also we all have children and everyone can relate to them, which was really awesome about travelling with kids: because people were always welcoming.
Through the children, who are so pure and innocent, people look at you differently. They open their arms a little bit more. And we all share that love for the future of the children.
How did it feel, going on the same journey your father took you on, when you were young – now you with your kids?
Aamion Goodwin: It really opened up a lot of things and a lot of respect towards my father. Growing up your children can be a big deal or not a big deal. Just be able to surrender and know that everything is gonna be okay – with that mantra my father was very eye opening.
He just allowed life to unfold and didn't need anything or anyone – he just would make his money as he goes. So it was definitely eye-opening for me to be on the other side and be the dad and travel with the kids and make sure that everything is okay.
The world changed a lot since when I was travelling with my dad. There is a lot more people, there is a lot more less rural areas to go, there is more popular spaces.
But it was awesome in both ways. It was awesome to take my family around to places that I had been and showed them stories about when I was young – and that really connects generations.
Tell us about your spiritual background.
Are there any people or any books that have influenced you?
Aamion Goodwin: Well, I know there is a higher power and there is a strong connection to this higher power – I can't really say what that is, I believe it´s god and I pray to god.
But I read not as much as I would like to, I feel that I should read more but because my dad was such a spiritual person – his whole life was based on spirituality, so I haven't dove into that yet – I think my connection is to land, to the ocean and that god has always been there – I can feel its presence within our lives, guiding us and keeping us safe. And I just always try to get by him whoever he might be.
The places during your trip, have they been mapped out before
or have there also been spontaneous decisions?
Aamion Goodwin: For the most part we had a rough idea of where we wanted to go. Based upon flight time. We didn't want to travel with the kids in the plane for too long, so we tried to keep it under 6 hours.
There was a couple of "Oh let´s change that and go there" so for the most part it was planned out where we would going. But what we were doing at those places – that wasn't planned. That was all like "just land and see what happens".
I remember this sentence from the movie: "The water is so loud – but underneath it´s a whole different universe". To me it´s a beautiful metaphor for the whole movie – it is something to immerse in – forgetting about everything that´s going on outside the world right now.
Aamion Goodwin: Oh yes, for sure.
There are very few things you can do in life where you don't here anyone talking, where you don't hear things – I mean you hear things, but it's a different sound. So when you go under water with a mask and you are focused and not lurking around there is so much beauty about that – it is kind of unexplainable. I think it's very therapeutic. It allows our mind to be in the moment and only be present and enjoy what's going on. Especially if you can get into clear ocean water.
Nobody can talk to you. There is no distraction. You are just looking at some piece of reef or some fish unless someone grabs you. It's pretty cool and definitely a different universe.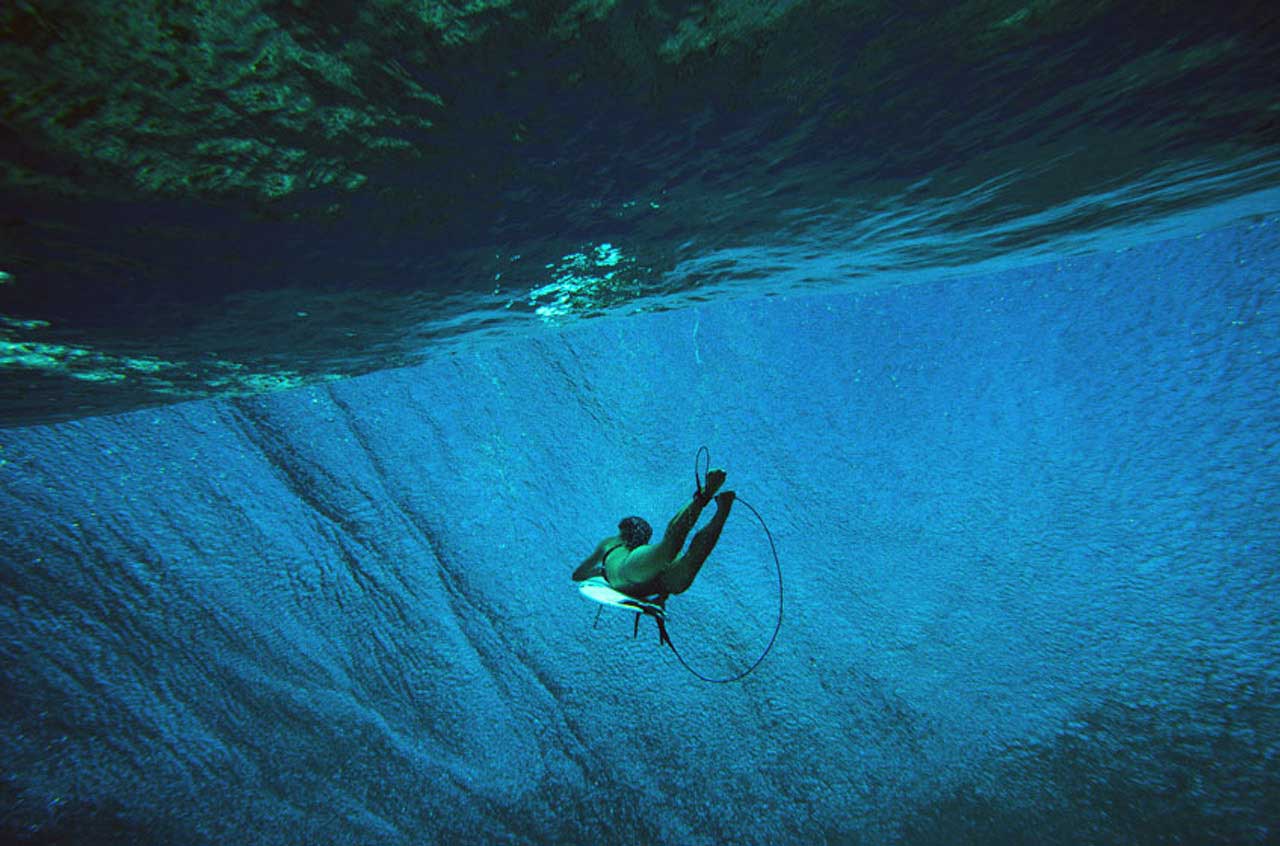 Just watching the footage had some kind of intense decelerating effect.  Nowadays society could also decelerate a bit more, right?
Aamion Goodwin: Definitely. It´s crazy out there. As far as being in the moment and be present that doesn't really exists.
There are a lot of people so its easy to get carried away and not take time for yourself and just forget about the phone, forget about the computer and forget about the television and just go out into nature and allow yourself to decompress – this is so necessary!
In order to be able to function at the level you want to be able to function. As hard as this may be to allow yourself to do that, everything else I think will fall into place more. Things will start happening more . You gonna start relaxing and allowing things to happen and not always trying so hard. When you try so hard – that doesn't really end up where you would like it to.
Be present. Be in the moment with life as much as you can.
The same goes with travelling. People need to plan everything from A to Z, stressing around instead of just hitting the road.
That's a big one. Here in Hawaii I see people coming all the time, they got the time they land, they check in at the hotel – their whole trip is booked. There is no time for a possibility of "Hey, let's not go right, let's go left". They need to see this and that. So for most, their vacations is just as stressful as being home. I agree with you on the fact with the travelling.
Better thing is: don't make plans. Go somewhere and spend a good time there. Figure out the frequency there and enjoy yourself. See the beach for a few hours and look out at the sea or something.
Don't make plans. Go somewhere and spend a good time there
Your son´s name is also the title for the movie.
How did you come to the name?
Aamion Goodwin: Totally, we came up with the name GIVEN because we thought that he was given to us through god who has Given his blessings.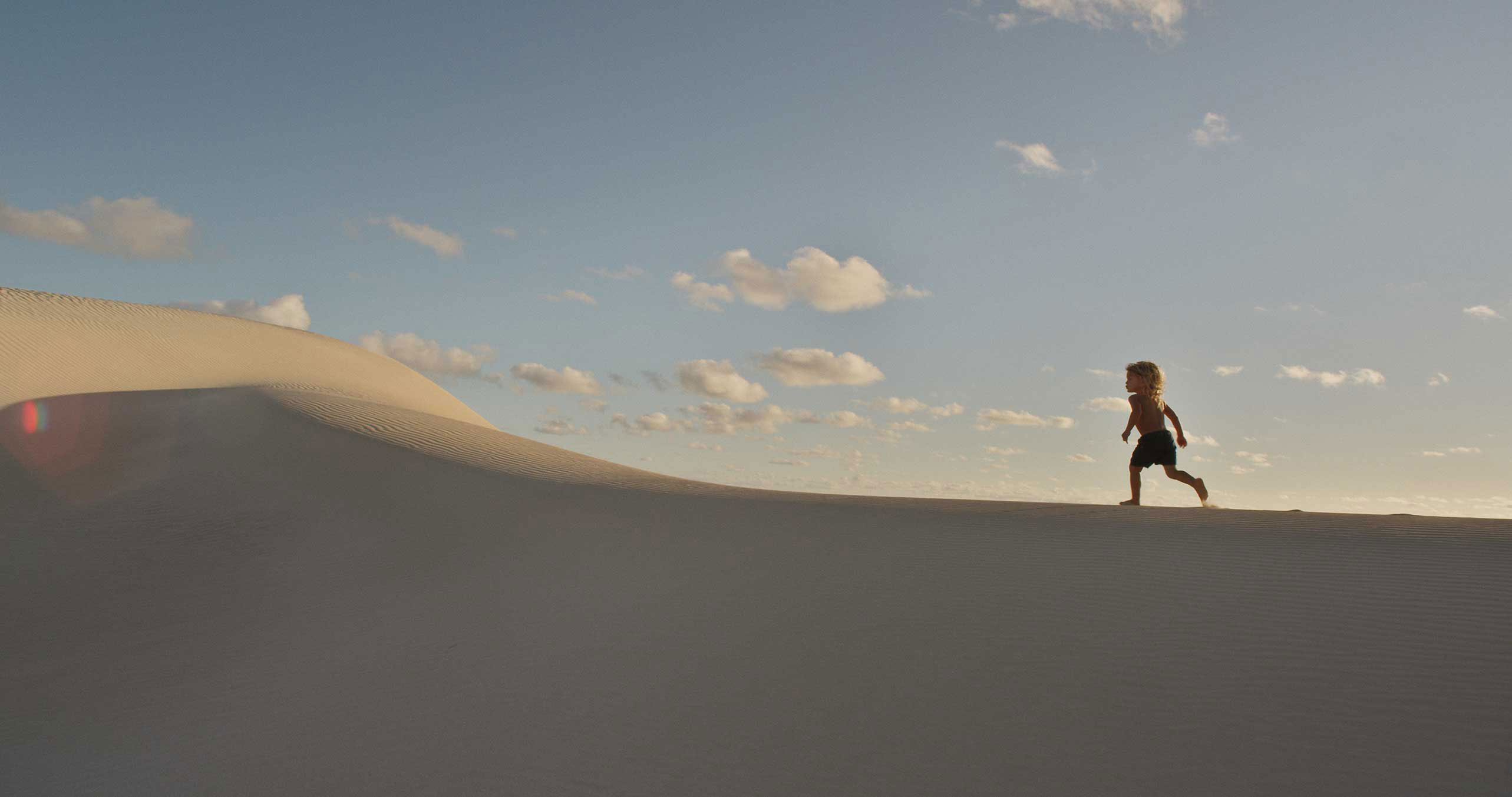 At the end of the movie you where building a hut – a sign that we all are going to settle down one day?
Aamion Goodwin: Someday I think you'll find a place where your heart is, where you want to be and you want to take care of and spend your days. Speaking for us – we are half here on Hawaii and half in Fiji.
Someday I think you'll find a place where your heart is, where you want to be and you want to take care of and spend your days.
I also liked that quote: "You don't need magic to catch a big fish. You just need to follow the stars, listen to the people you meet and catch some waves." Is this the recipe to happiness?
Aamion Goodwin: You just follow your feet and if you allow your feet to guide you to the next place, then things will work out and you´ll get what you are looking for. You don't have to chase it.
What was your most inspiring moment during that trip?
Aamion Goodwin: Just being in Fiji with my whole family out on the island. Just being in that lifestyle with the Fijis that I love so much. That´s inspirational to me – to live that simple lifestyle that just feels so right.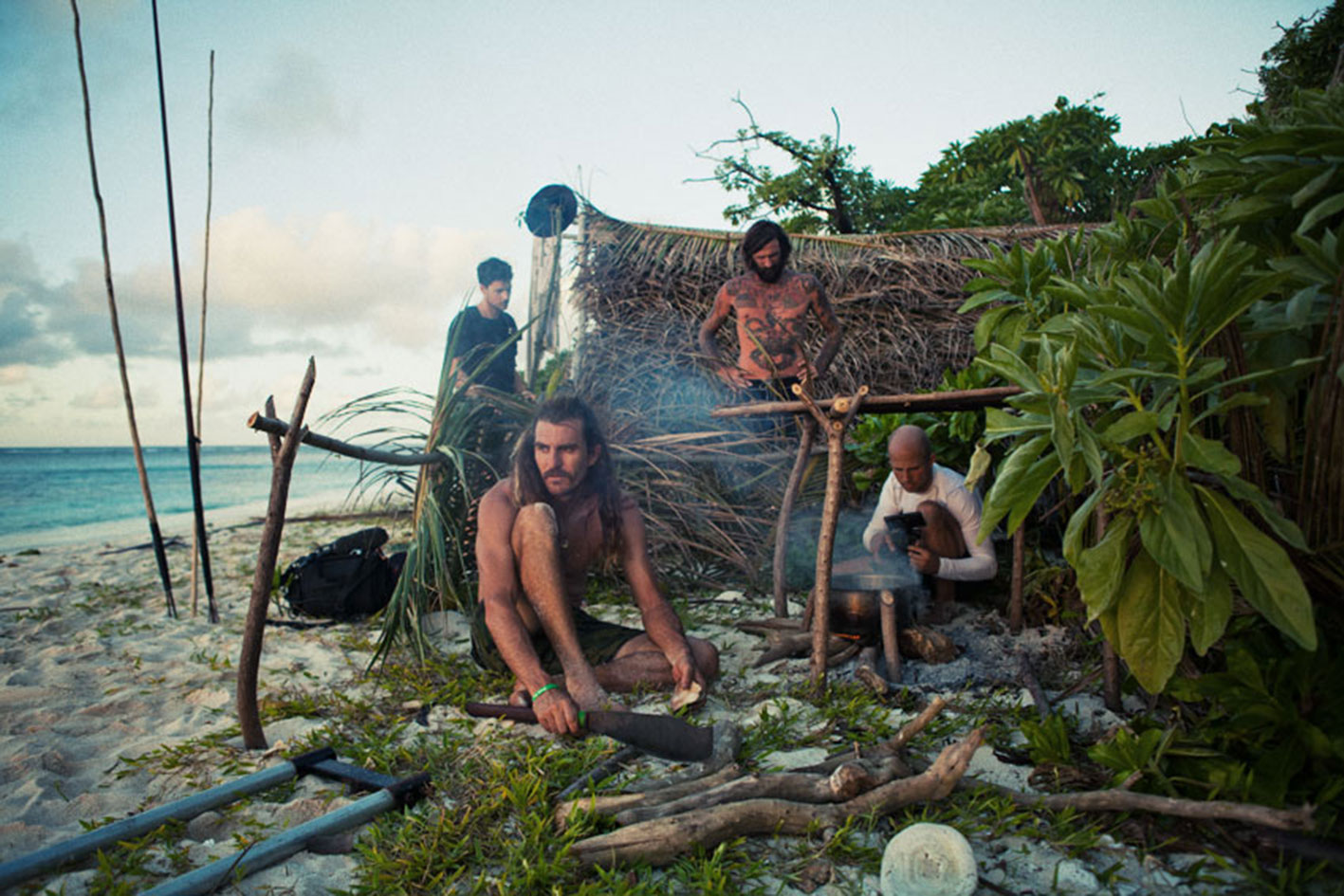 What feeling in our normal life comes close to ride a good wave?
Aamion Goodwin: When you're on your best waves, I guess that´s when you be in the barrel. And if it´s a really intense big wave, a lot of time can be just texture or can be just sounds and then the most of it you don't remember because it's so intense – so intense so that i'ts relatable to – let's say rock climbing, where there is a move that you finally made, that you tend to make and to get that move on that rock with that one finger, that adrenalin that makes you forget a lot of it. 

It's an extreme sport. When you get that wave, it´s kind of a blank spot in your mind. Like almost a meditation – it's totally blank.
What would you suggest parents, who are scared to hit the road with their kids, who think they always need to be kept safe?
Aamion Goodwin: I think as humans one of the worst things is fear. When we allow fear to guide us and to dictate what we are going to do in life. Thats not a life at all when you live in fear.
You can't be afraid. If you are afraid, then things will happen but if you just believe and know that things are just gonna be okay. Kids are strong. Obviously you don't put them into crazy situations but they'll be fine, they can handle tripping and falling and get back up and doing it again .
And with travelling that's really one big thing I want to implore : to inspire people to get up and take their kids and go out – travelling is the most amazing thing and the most formal schooling that you can possibly give your child.
They don't have to travel around the world, it can be just going in the backyard, making a fire, camping in the backyard, doing something different, doing something outdoors. That´s really what's the movie about – to inspire parents to just get up and be with their kids outside of the house away from TV. Don't allow your fears to stop their dreams and their possibilities that can happen in their life.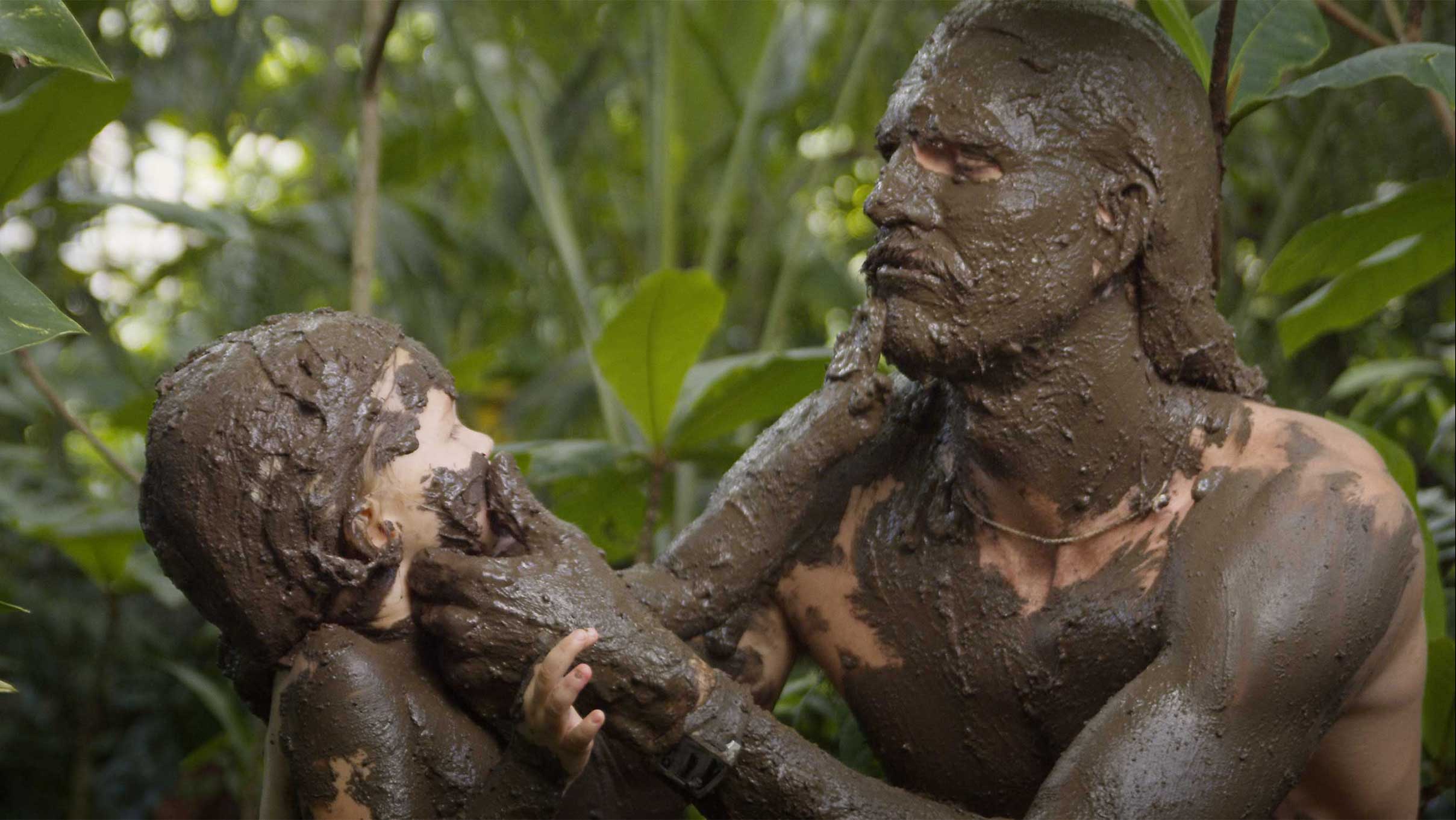 Do you think this movie could change the mindset of other people on how to treat the planet or how they treat themselves, because they actually don't live?
Aamion Goodwin: I surely hope so. But this movie is not made in a way to show other people how they supposed to live. I don't want people to think that at all but I do definitively hope that it inspires them to live more free. To care more about the planet and that we as individuals do the right thing right out in front of our doors. Make the impact. Whether its recycling or stuff. Everyone of us can do an impact to start a change.
So that our children can still breathe pure air and drink clean water.
What message would you leave for the readers?
Aamion Goodwin: Be present. Be in the moment with life as much as you can.
Don´t miss the movie during "Cine Mar"-Tour through Europe.
Check out all cities with the screening of "GIVEN".