Marta practicing at the top shala of Sampoorna in India.
At the beginning of 2016 I did my yoga teacher training at Sampoorna in India, which was a great experience (I am going to write another article about that, too). One of those awesome teachers that where responsible for the inspiring environment was Marta from London, who led the Ashtanga Classes in the mornings and the VinyasaFlow Classes in the afternoon. Each class of hers was special, enriched with spiritual wisdom, so you could feel the influence of her own teachers, especially those of Jivamukti Yoga, whom she loves the most. Always up for an interesting chat in between we talked about her exciting life as a traveling yogini living in the most beautiful places on this planet.
Hey Marta, you are traveling the whole world giving yoga lessons,
living the dream of every yogi. What did you do before?
My life hasn't always been that way, but – as I felt the urge to follow my heart – I made it happen. I had a great job in PR but as I got deeper into my asana and meditation practice, I realised that I was living two lives. The one on the mat which was profoundly changing me, and the corporate one, behind the desk. And so I put everything on one card, signed up for a teacher training, and quit my job. And in a beautiful way, it all flowed effortlessly and the rest is history.
How did you find your path to yoga?
I discovered yoga when I was 15 or 16. There was a studio near my house where me and my Mum used to practice aerobic. One day I attended the yoga class, and I was hooked. I don't even remember if the practice was a specific method but I dived deep into it, and even convinced my Mum to go with me! She still practices today, which is so lovely. There is something truly special in being able to teach her and continue to share this together.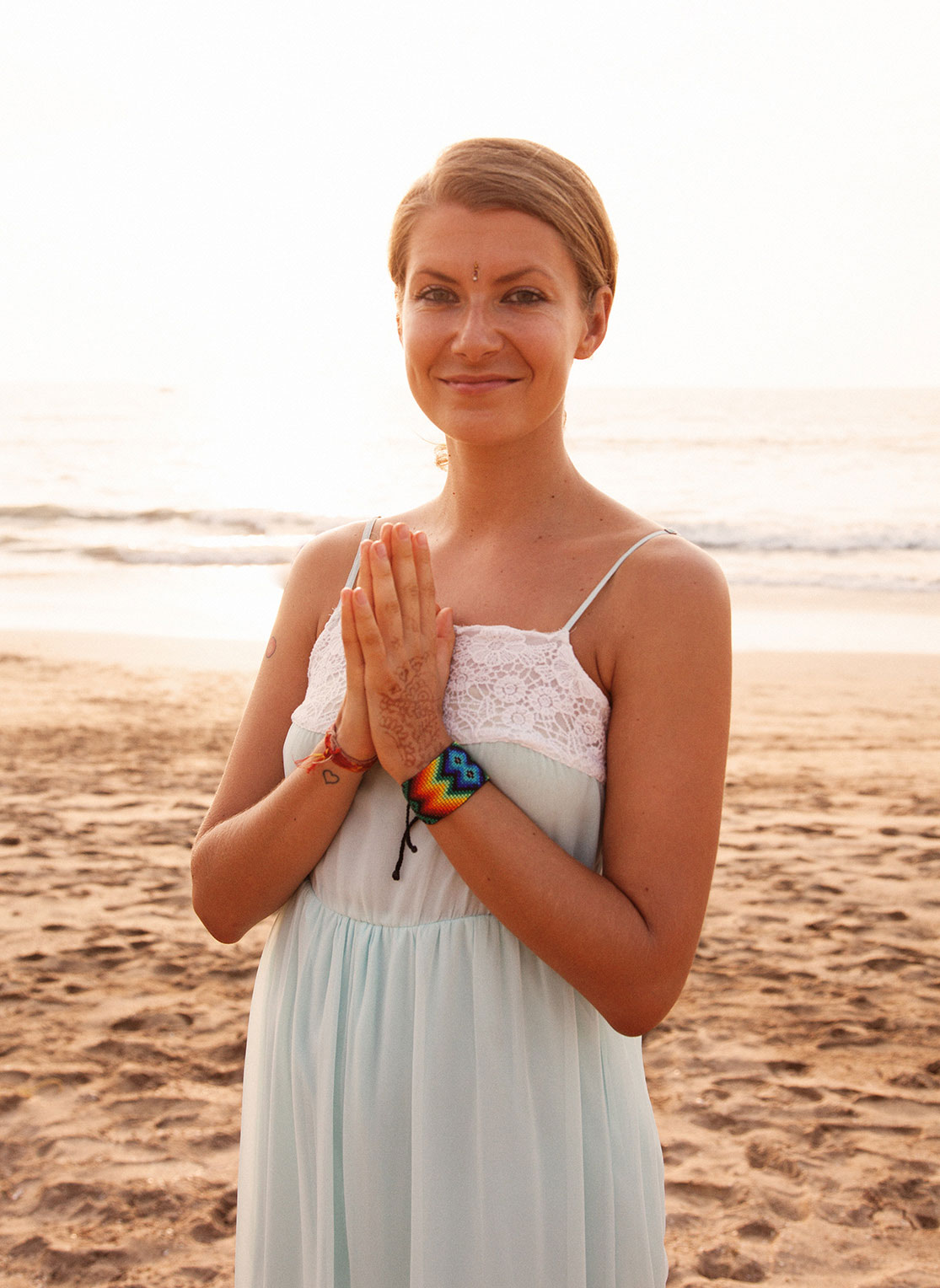 Marta at the ceremony at Agonda beach in India. (© Thomas Zielinski)
What is your favorite yoga-style?
I adore Jivamukti Yoga. Everything about this method resonates with me – the strong asana practice, the chanting, the devotion, the satsangs, and the beautiful community of its students.
I have always resonated with the very Yang ways of practicing, but following a foot injury early this year was forced to slow down, and that's when I fell in love with Yin Yoga. My practice has evolved tremendously since I began to regularly incorporate Yin. I have certified in Yin with a strong angle towards Chinese Medicine, and am fascinated by this new dimension of mindful practice that is unfolding for me. Every day is an evolution on and off the mat!
How do you manage to integrate yoga into your daily life?
Yoga IS my life. I believe it's so much more than just getting on our mats – it's about the way we walk through life, the way we treat others, the way we speak, what we think. I try to be mindful and kind and open, all day and every day. Some days are easier than others, but ultimately – true Yoga is about the willingness to grow and unfold, to shed the layers of conditioning, to seek, to look within, no matter how hard the process.
You seem to chose places for teaching close to the ocean.
Why is that?
Believe it or not, but I actually don't! They seem to find me. When I apply for jobs I choose countries which I love (like Colombia), but then the actual location is not so important to me. I choose places which somehow resonate with me. And the fact that most seem to be by the ocean is just a perk.
What does the ocean mean to you?
When I see the ocean, I always think of the beautiful teaching of Advaita Vedanta, Tat Tvam Asi – the wave in the ocean may exist in the illusion of its separateness, comparing itself to other waves and believing in its individual existence, but the wave IS in fact the ocean itself.
Often we hold on so tightly to our personality-based identities, developed through living. What we forget is exactly that – we are the ocean, our true nature is always present underneath the conditioning. Once we become more aware of it, more aware of our true Self (and Yoga is a fantastic tool in that awakening) we gradually come back to truly remember that we are in fact One, with everything else there is. We are the ocean experiencing itself as billions of tiny waves. How incredible is that? Stepping into any vast waters always connects me to my Self, reminds me how hugely expansive is the actual Life, and yet how everything is so deeply connected.
The wave in the ocean may exist in the illusion of its separateness, comparing itself to other waves and believing in its individual existence, but the wave IS in fact the ocean itself.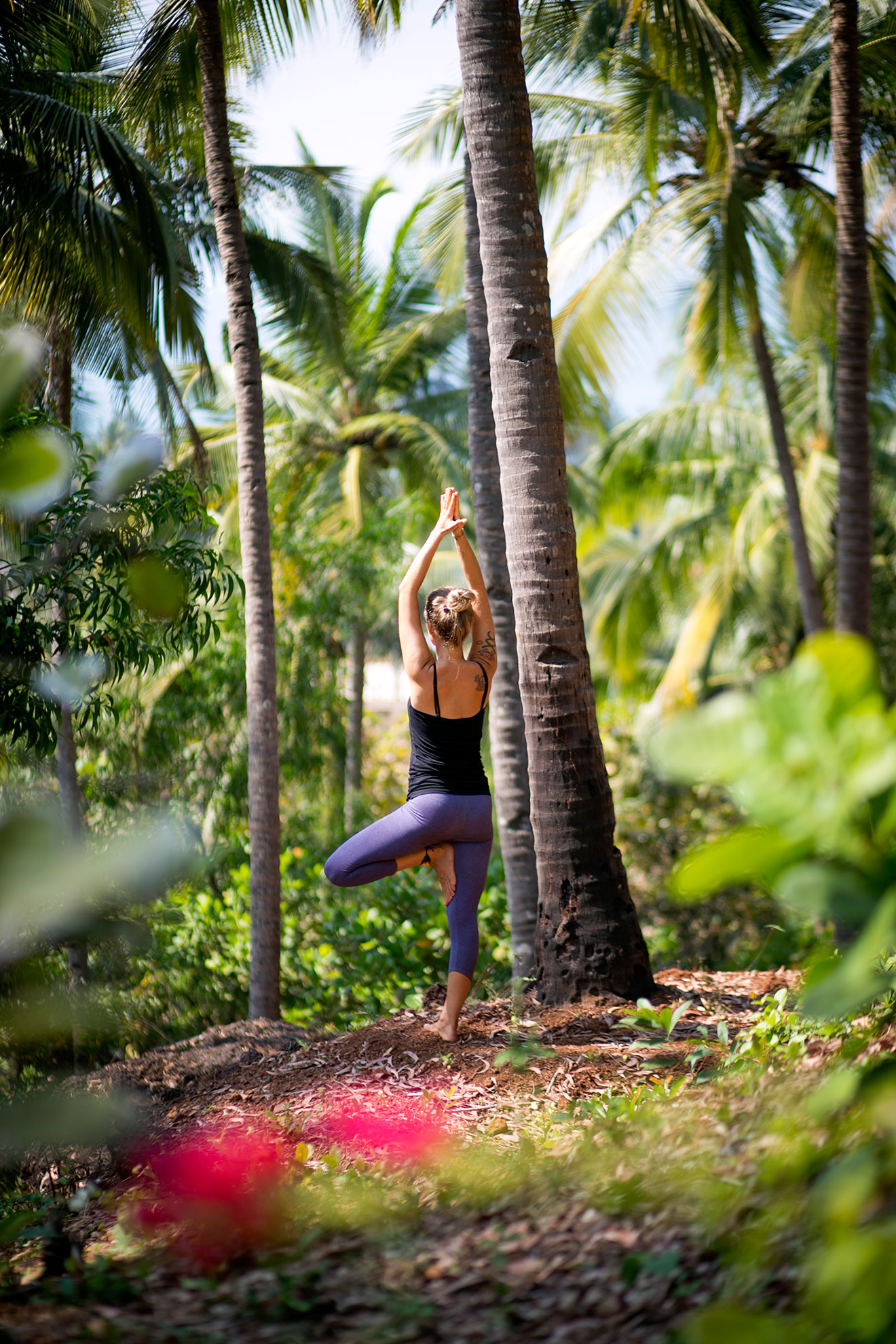 Why did you choose Agonda for example?
I didn't choose Agonda but specifically, Sampoorna Yoga. I wanted to train in India, at the source. I am a sun worshippers so it was an additional bonus to be taking the training somewhere hot and sunny.
What we forget is exactly that – we are the ocean, our true nature is always present underneath the conditioning.
Can you imagine another lifestyle again?
Living in a big town, with stressing people around?
I lived that lifestyle and then one day woke up and realised that it wasn't for me. So why to go back? I'd love to settle down one day – have an actual home somewhere, rather than live out of my backpack BUT that doesn't mean that I have to give up who I am and how I walk through life. At least, not in my eyes. Freedom is the most important thing to me.
I am slowly feeling ready to grow my roots somewhere but life has its own ways, and for the upcoming eight months I am booked to teach across Asia and South America, so there is still more city-free wandering to come.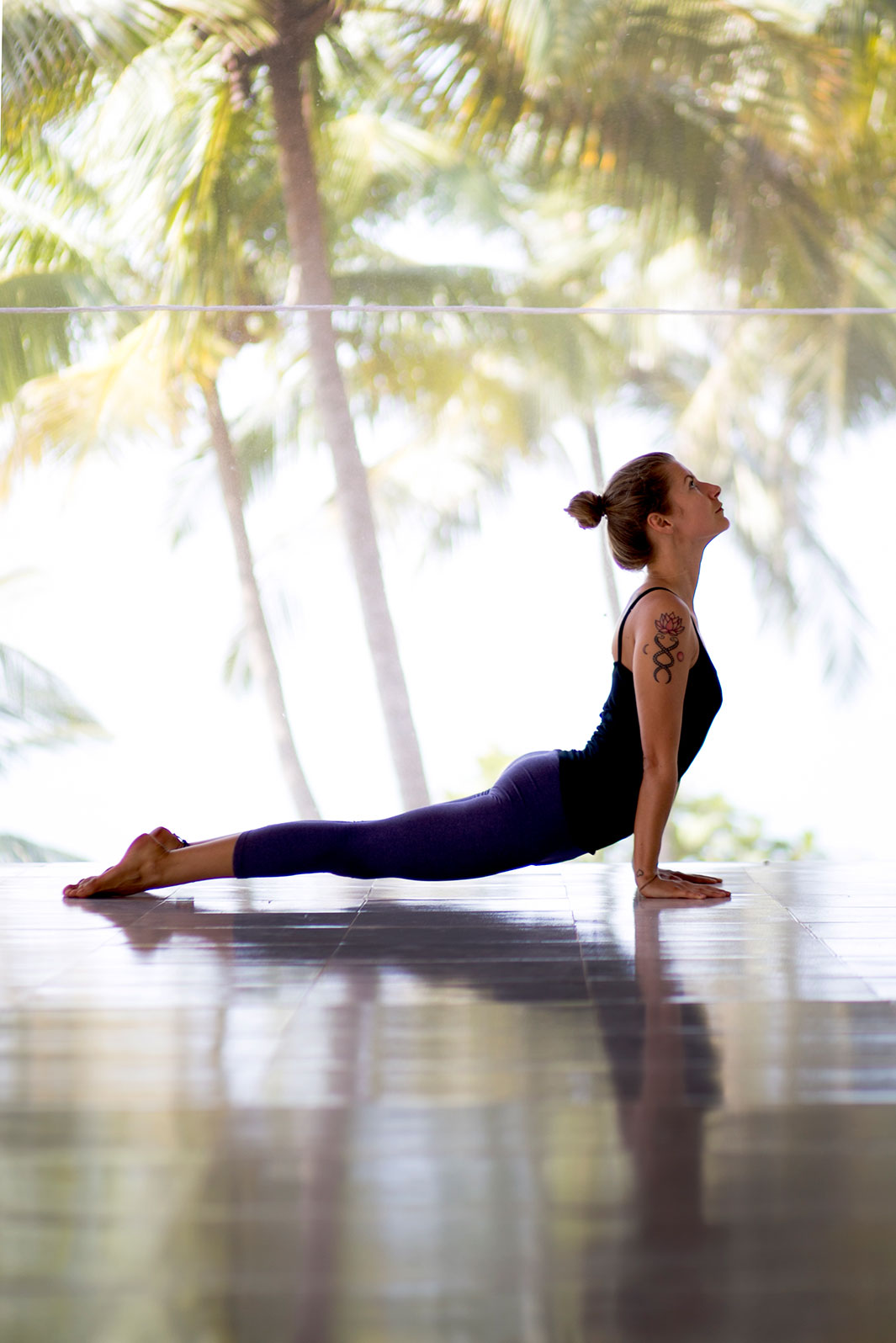 What are your passions aside of yoga?
I am fascinated by all forms of spirituality, and have been following that path for a while. I love to work with healers, shamans, teachers and masters – to learn from their ways, their traditions. This is something that truly serves as the most transformative force in my life and the more I grow and change, the stronger my desire to keep on. The true and only Teacher is the one within, and being in presence of those who are awake helps us to realise this.
Where do you see advantages or disadvantages
for the yogaworld using Instagram?
We can always choose to see the good or bad in things. Some dwell on how "vain" or "empty" it is to be posting asana poses on social media but I simply don't follow accounts which I don't find inspiring or interesting, so that's quite simple. I think Instagram has done a whole world of good to yoga – it's created a community, it's spread the message, it's popularised it. Yes, of course, that does bring the negative consequences too, but either way, Yoga does have a positive ripple effect, and the more people roll out their mats (even if just to take one snap and upload it), the better. Maybe that's how their journey begins, but who knows where it will take them! I have made some incredible friends via Instagram (including yourself!) and so I choose to see the good in it.
You can follow Martas inspiring journey on Instagram and
on her beautiful page www.martawanderlust.com