Cory Scholes homebase for the summertime: the camping place in St. Giron. (© by Thomas Zielinski)
He is 41 years old, from Australia and a hell of a guy: Cory Scholes, one of the founders of the label LGSC, is some kind of surf bad boy who walks about in France during the summer as a surf teacher and has tons of hilarious stories to tell – unluckily most of them would need lots of censorship. Anyways, after a blown out sunset session we had a an entertaining talk with him in front of his campervan in St Girons.
How did you actually get into surfing?
Cory Scholes: I started surfing when I was 10. My grandfather put me on my very first wave. That was in Australia, Noosa Heads. I just stood up and went to the shore, that was it. I stopped for a few years, had some injuries and got sick of surfing for a while. I was working in clubs and bars – doing all the bad stuff you shouldn't do if you surf and then I got back into surfing and never stopped again.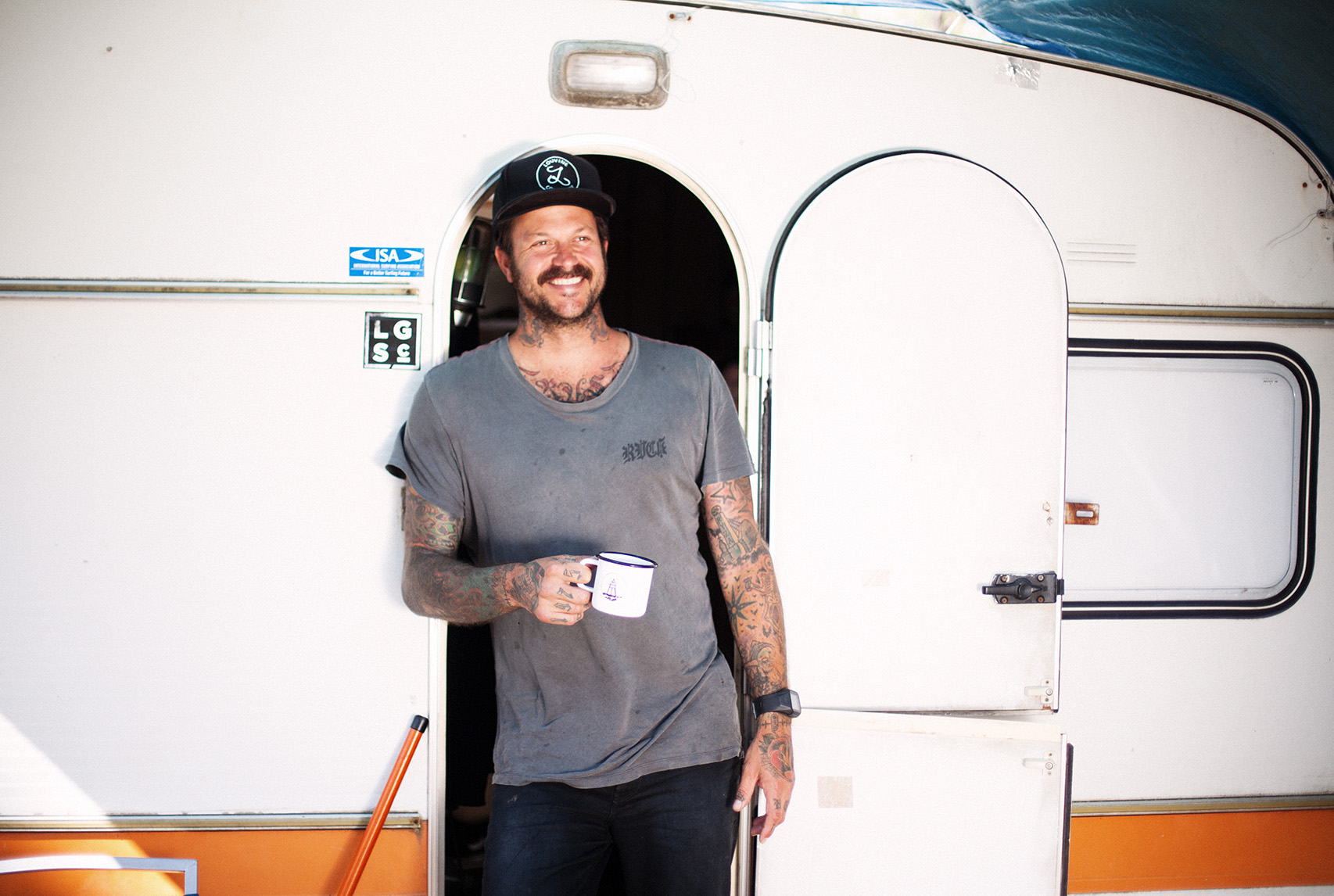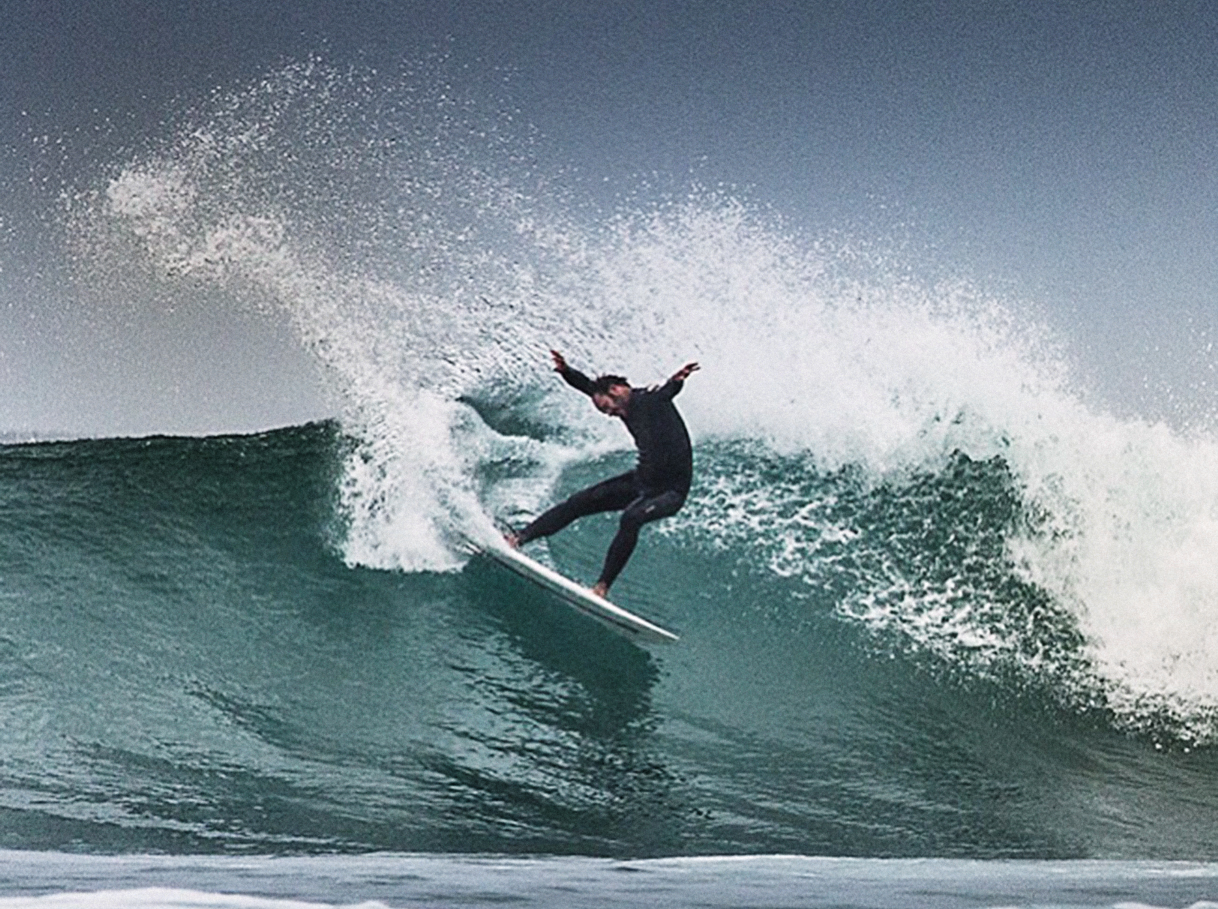 Splashes around whenever he has the chance to.
When did you come to Europe and why?
Cory Scholes: I came to Europe in 2004 because I was so bored with home, so bored with just the lifestyle I was living and saw so many cool things Europe has to offer. Then I had a taste of France and the european girls and yes, I was hooked and then ever since then I was staying over here and traveling over Europe, I work as a surf teacher in France for the Summer and usually I go back to London for the Winter or to Morocco.
Can you imagine going back to Australia?
Cory Scholes: I think I am staying in Europe. If I do go back, that would be in a long time. I still feel I am in the middle of it all. And it has been fourteen years, so I am still not ready to go home. It would stupid if I leave, there is too much going on here and I love european women.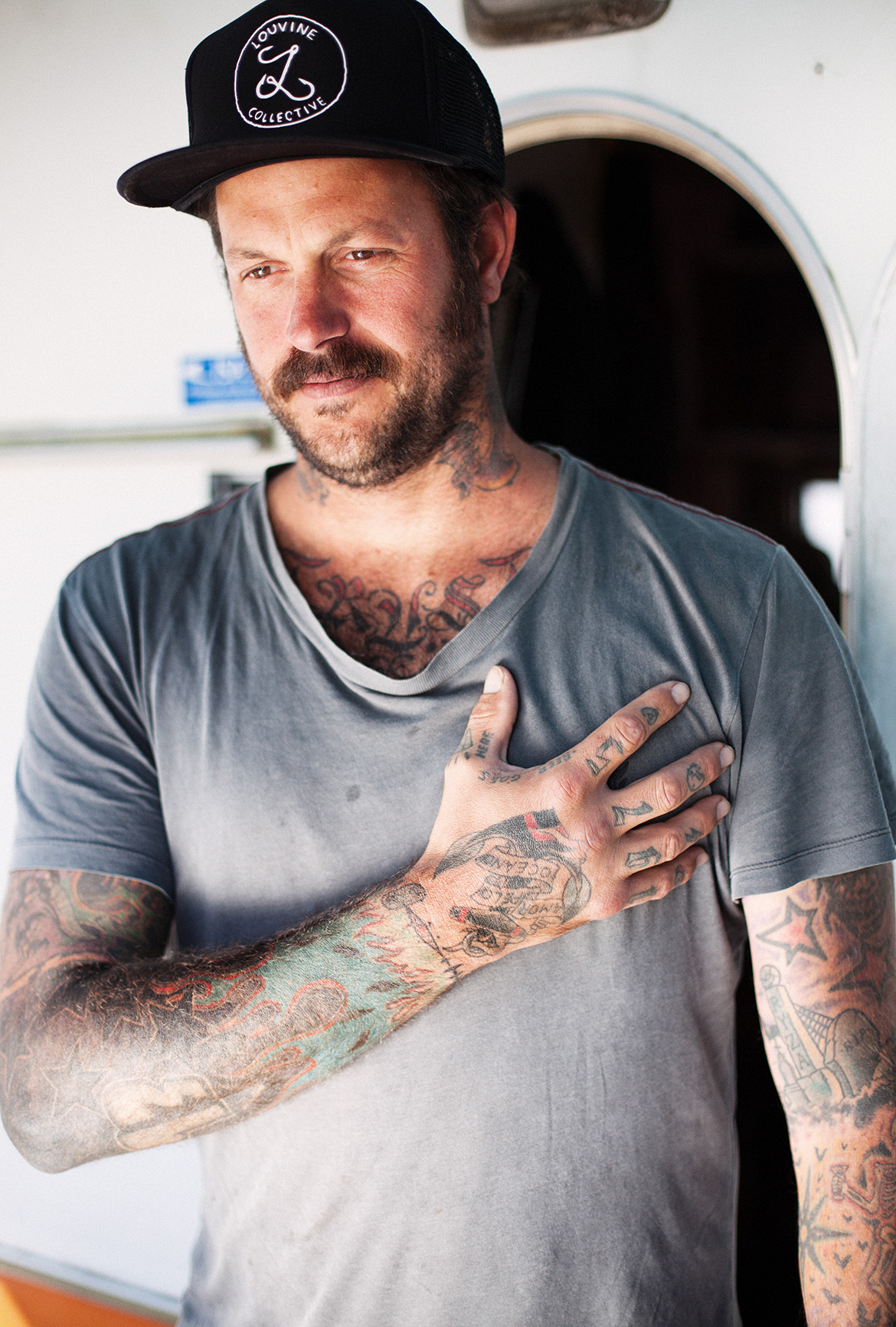 Even Corys skin has a lot to tell. (© by Thomas Zielinski)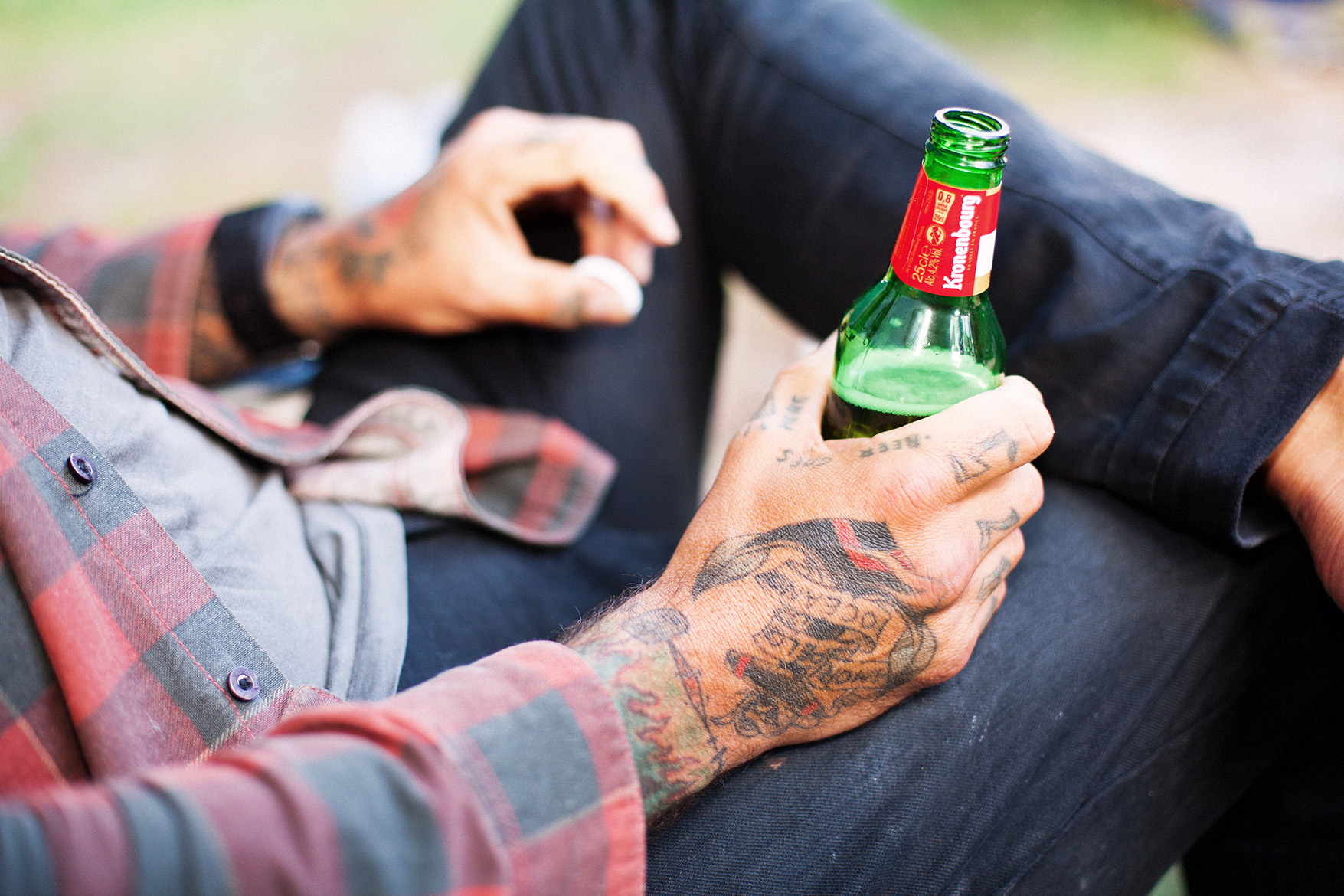 What are your interests aside of surfing?
Cory Scholes: I like doing stencil-work, spraying and that stuff and yes, just sex, drugs and rock n roll.
Regarding spraying, let´s talk about your label LGSC.
Why did you start that?
Cory Scholes: I hung out drunk with my friends Zingel and Marco and I showed them some of my work as he said: "Fuck, you should start doing a label with that" and then six years later it happened. And it´s pretty rad, when I come to France and I see Germans with duffel bags and beanies and t-shirts of LGSC. It makes you feel fucking rad – but it just happened. It´s cool to be part of it.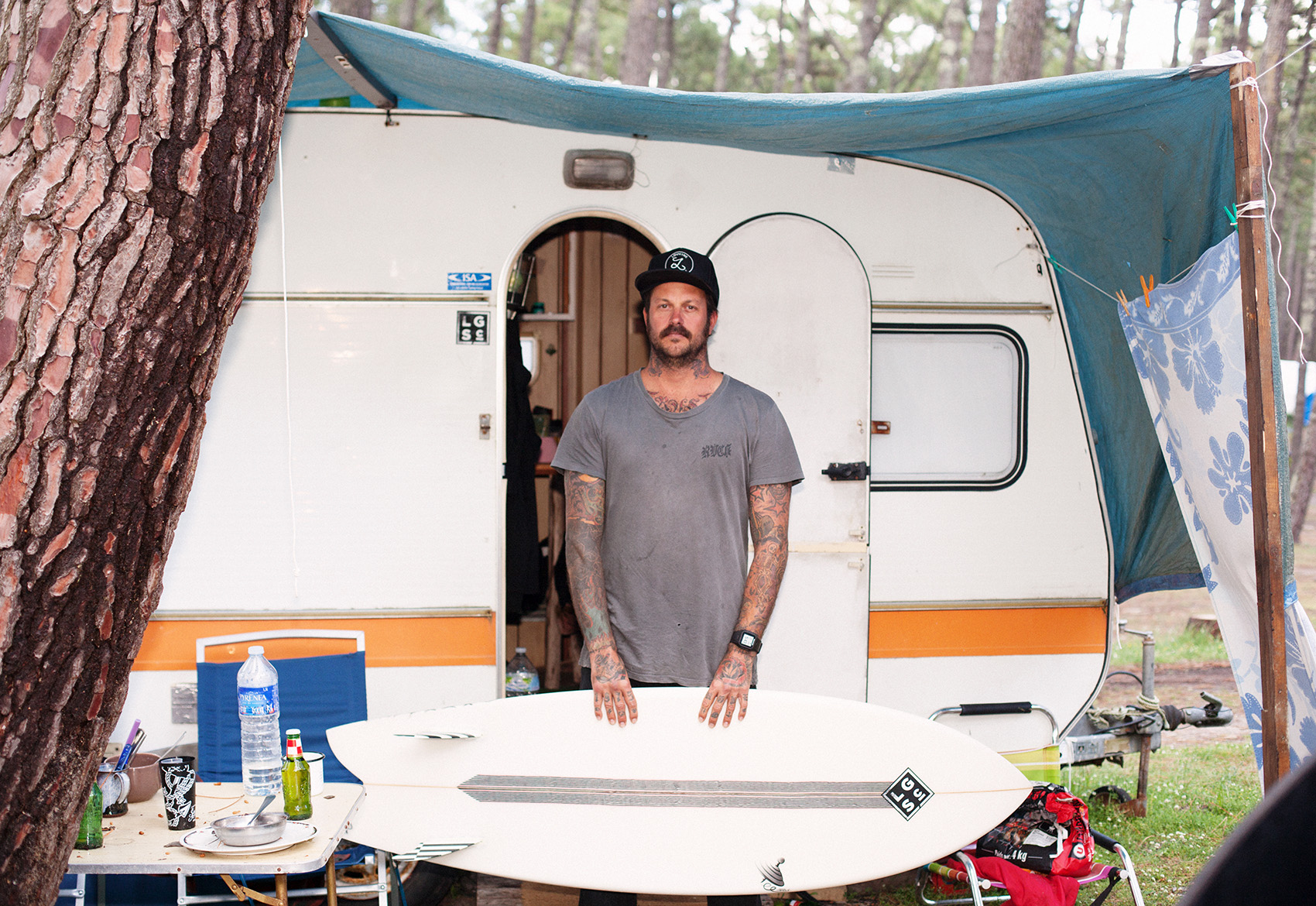 Always ready for a ride.
What does the label stand for? 
Cory Scholes: Years ago when I was a kid, and the surf was pumping, and then the Ozzie want to go he said: "Fuck its pumping – LGS" and I said: "What the fuck is LGS?" And he said: "Let´s go surfing!"
What book are you reading recently?
Cory Scholes: The last book I have read is called "Neverwhere". It´s this really trippy, underground sort of half fantasy stuff based in London. It´s pretty cool. Really different.
What does the ocean mean to you?
Cory Scholes: Freedom.
You are writing a book at the moment, right?
Cory Scholes: Oh no, it´s more kind of a list.
What kind of list?
Cory Scholes: I leave that to your imagination (laughs).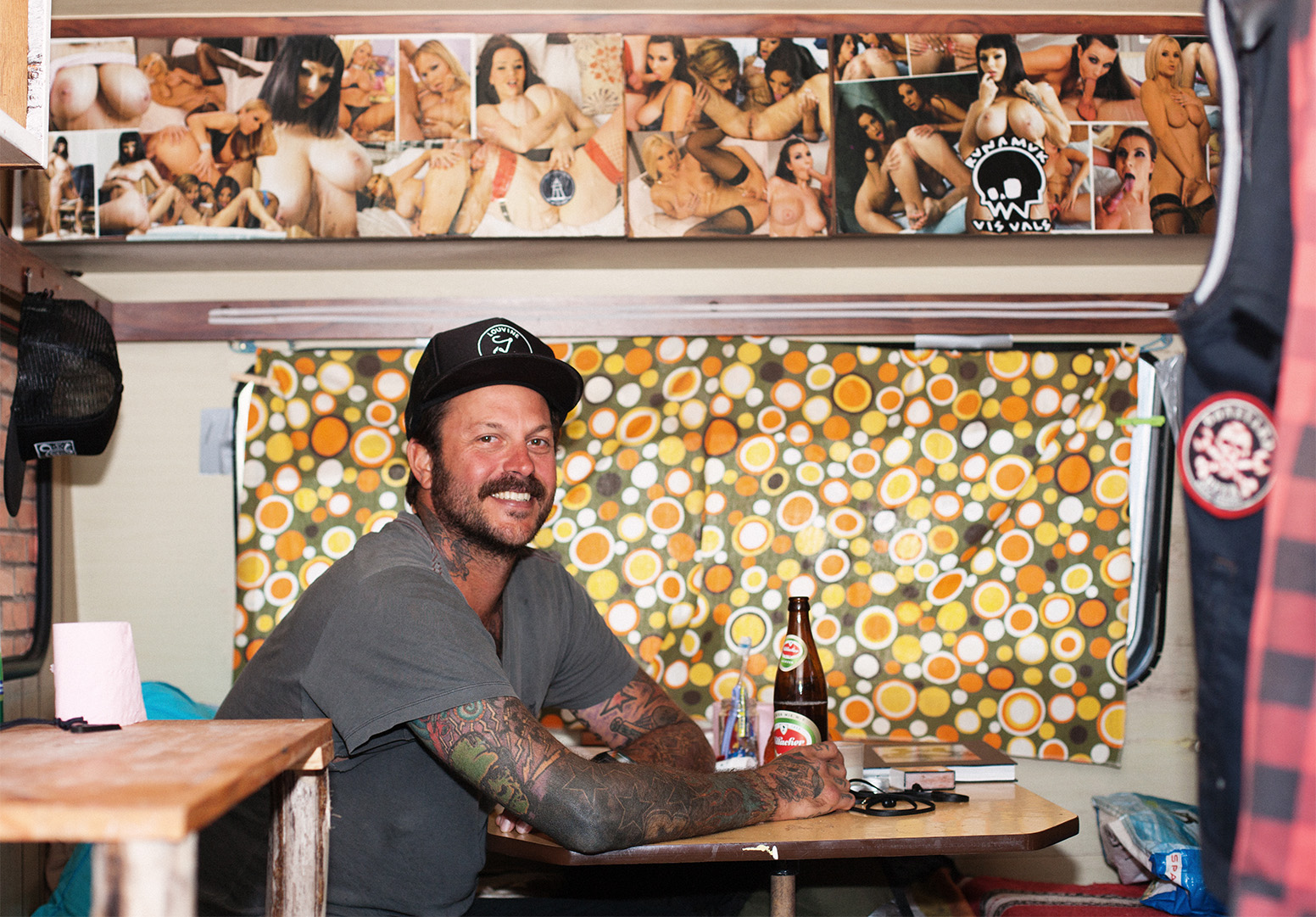 Place with a view: inside Corys Campervan.
What is your favorite surfspot?
Cory Scholes: An A-Frame down south in Morocco called "SXXXS", it´s an hour and something south of TXXXt. If I tell anyone I get killed.
Since when are you a surf teacher?
Cory Scholes: Since 2004 for 8 seasons in total. I have 16 students a week.
How many surfboards did you break over the years?
Cory Scholes: About 50 that have been snapped.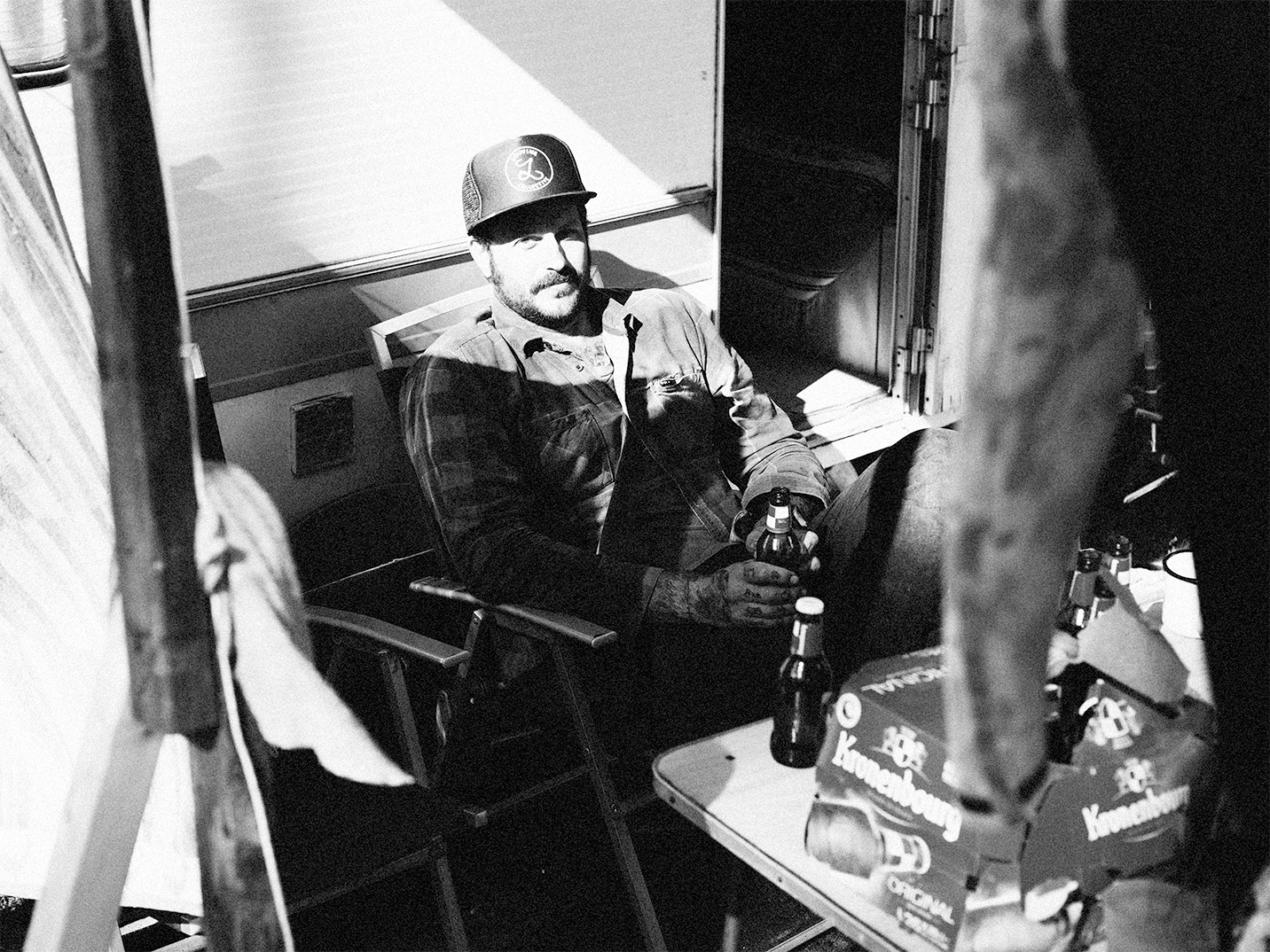 Charging on a clean right-hander.
And what about the environmental footprint
that you leave with that amount of boards?
Cory Scholes: That I don't like. I think it´s shit. All the material are still so bad for our environment.
What is the biggest wave you have been ever surfed?
Cory Scholes: Just recently, that was a month ago in Morocco at Killer Point, the wave was easily 8 to 10 feet high and I was scared – but fun at the same time. The best wave I´ve ever surfed.
What do you think about Kelly Slaters wave pool?
Cory Scholes: I would fucking give my left nut to surf that. I think it´s amazing. It´s a good development for the international surfing scene – and it´s shark free (laughs)
Anything else left to say to the readers of GET WET SOON?
Cory Scholes: Err, to all the Girls: Come into my caravan and "Get wet soon".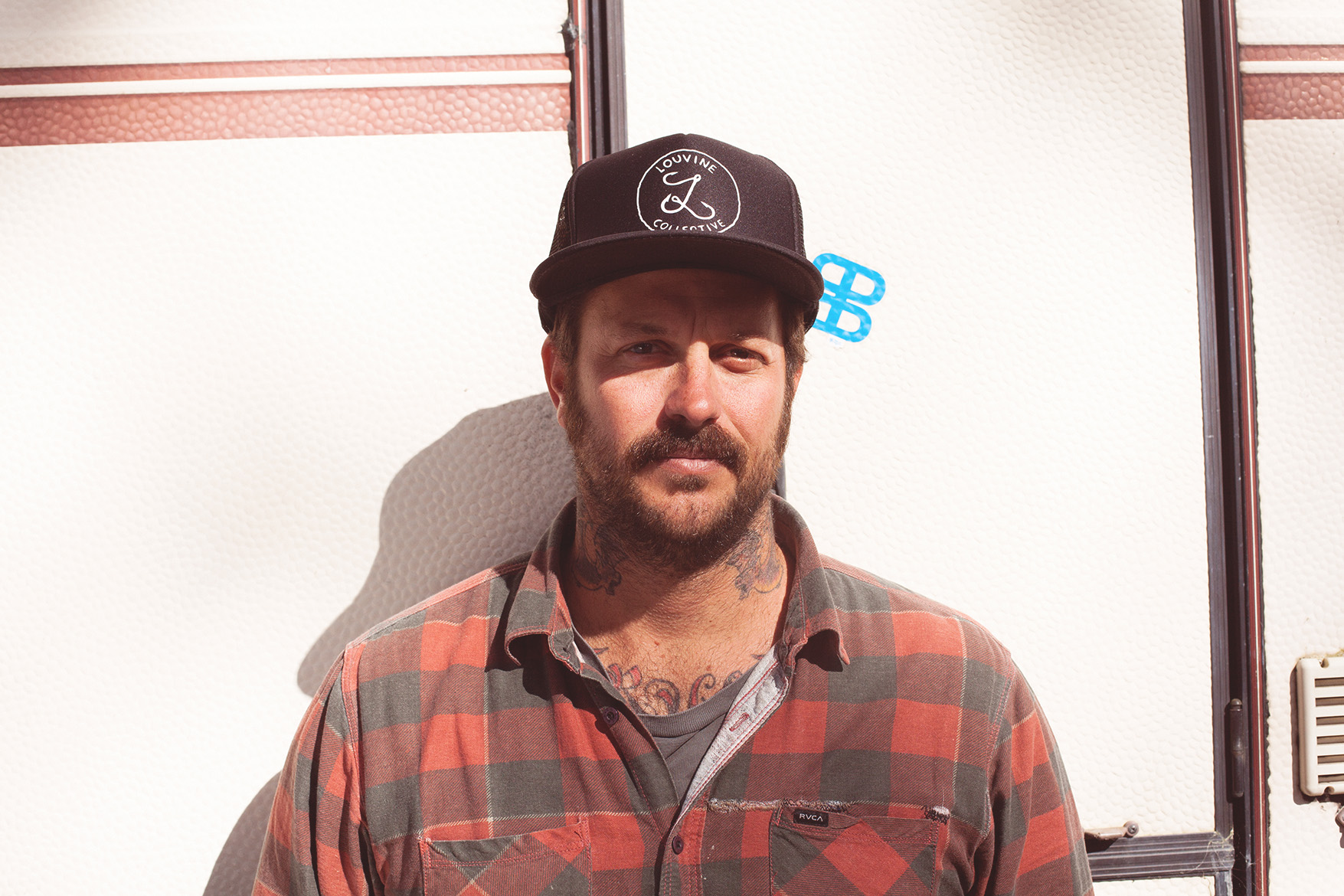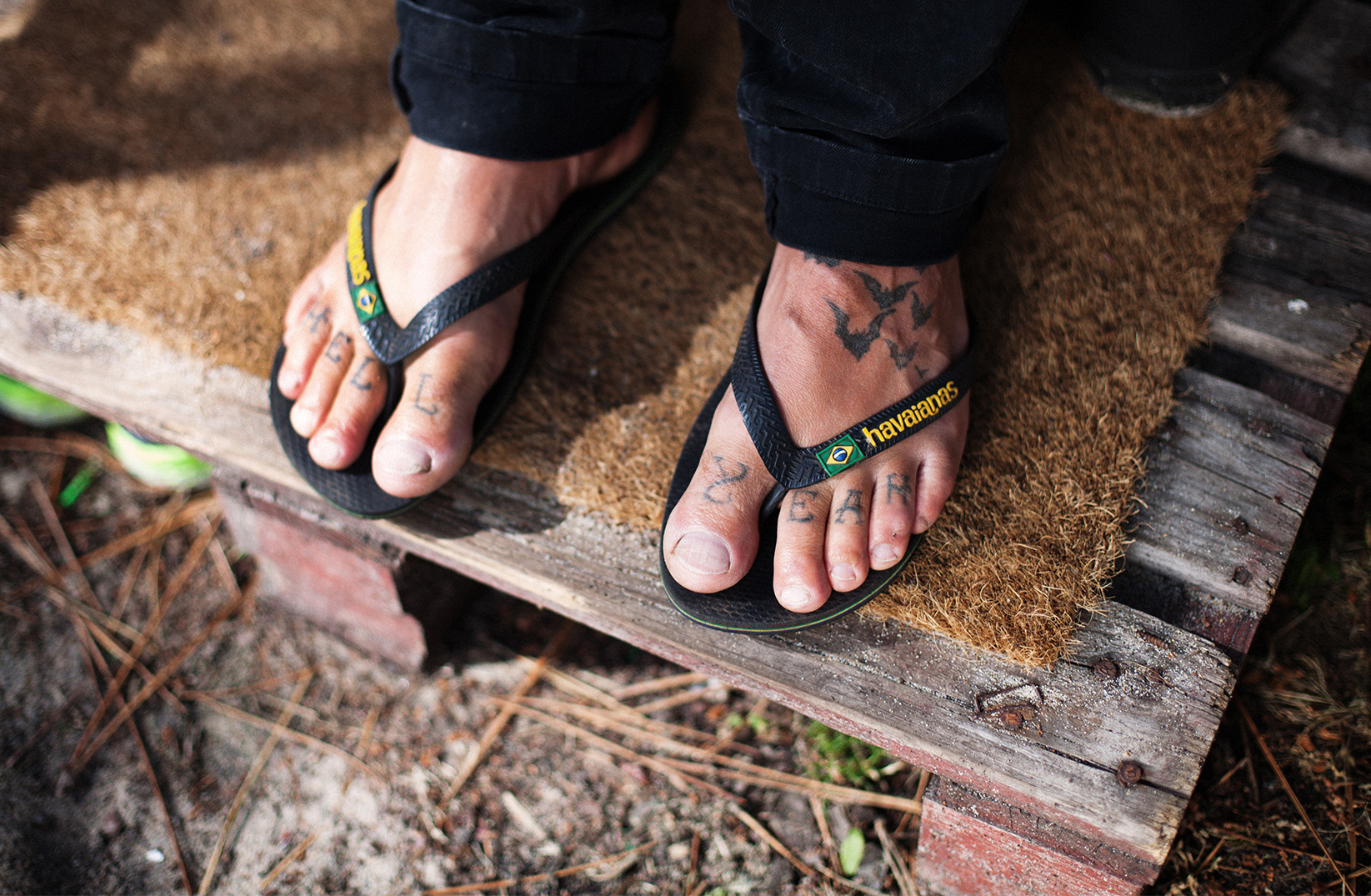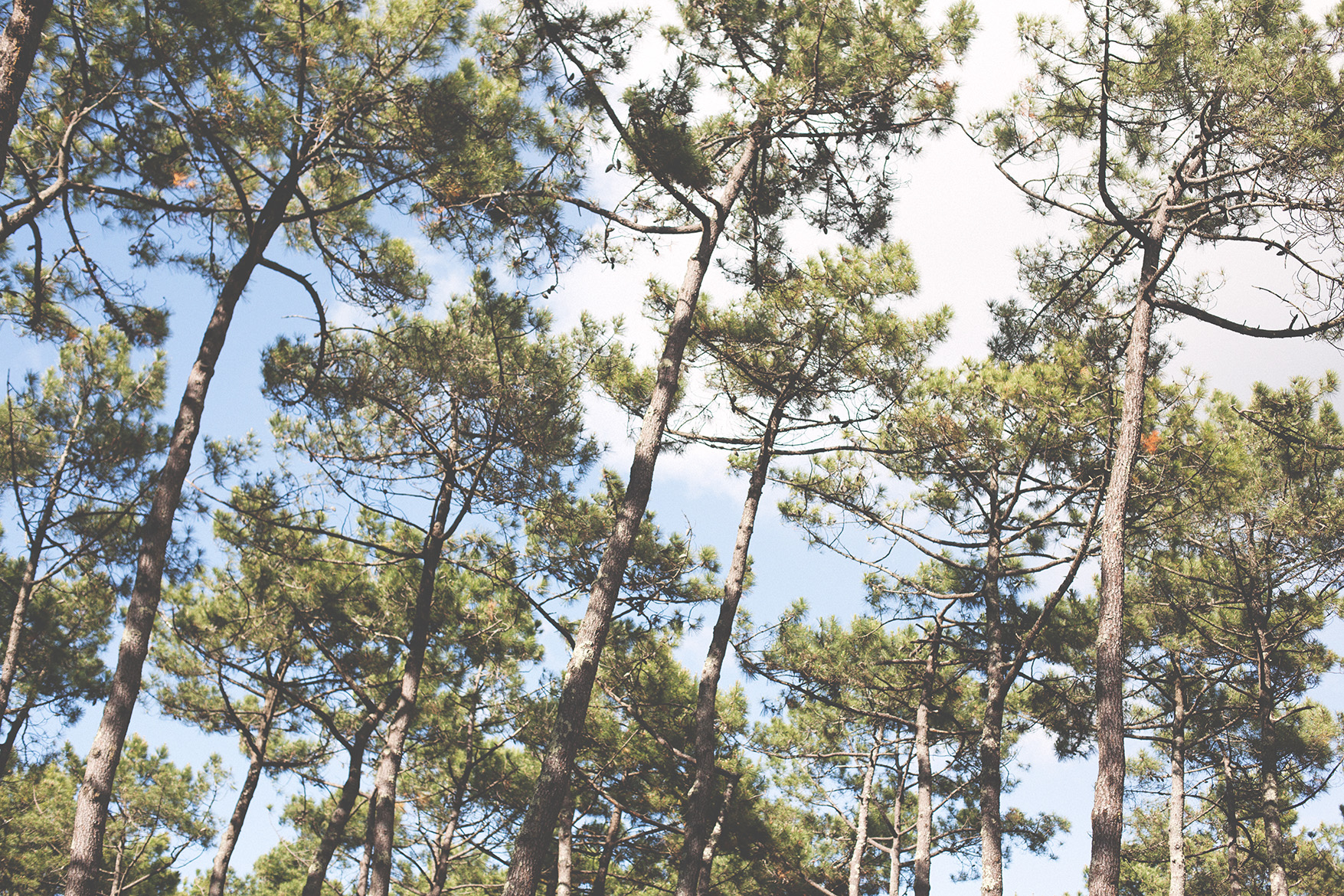 Roof for the summer: under the pine trees.